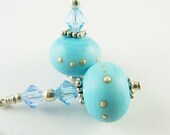 These dangle earrings are handcrafted using SRA Artisan lampwork beads in blue or turquoise. Pure silver wire is also melted onto these glass bead for added Sparkle.
These beautiful glass bead earrings is completed with swaroviski crystals, sterling silver headpins, beads, bead caps and earring wires.
The earrings are 1.7 inches long measured from the extreme top of ear wire to the bot...
Click Here to Visit My Etsy Shop!