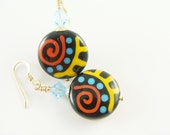 Handmade glass bead earrings made with SRA Artisan Lampwork beads from Moretti glass with red, turquoise and yellow details on a black base. Swarovski crystals and 14k gold filled findings compliment this radiant look.
These awesome dangle earrings feature, swaroviski crystals, 14k gold filled headpins, 14k gold filled beads, 14k gold filled bead caps, and gold filled earring wires.
The ...
Click Here to Visit My Etsy Shop!