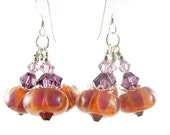 These fantastic dangle earrings are handmade using SRA Artisan Lampwork boro beads featuring orange and lavender purple. The dangles features three lavender and orange boro beads with swarovski crystals on each earring. The beads are complimented with swarovski crystals and sterling silver findings
These lampwork earrings consist of swaroviski crystals, sterling silver headpins, sterling silver beads, ...
Click Here to Visit My Etsy Shop!