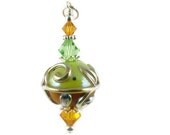 Beautiful handcrafted lampwork pendant using SRA Lampwork Lime Green and Dark Orange 16mm beads decorated with raised silver leaves and black dots design. The beads are designed with lime green at the top and dark yellow at the bottom. The bead is complimented with swarovski crystals.
This glass bead pendant feature swaroviski crystals, sterling silver headpins, sterling silver beads, sterling silver ...
Click Here to Visit My Etsy Shop!